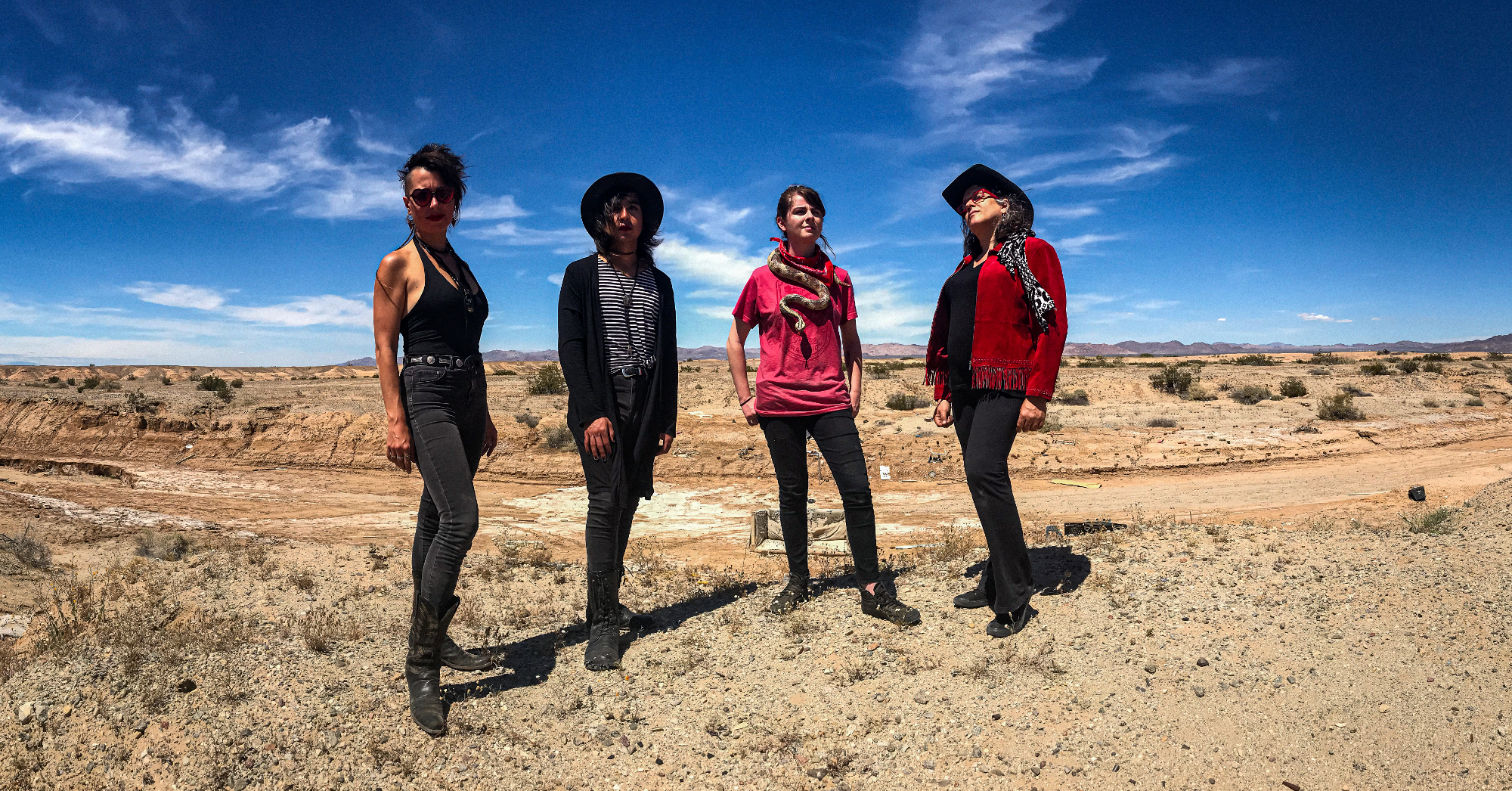 Short Bio
Sheverb is an all-Ladies, collectively run psychedelic desert rock band based in Austin, TX. Out to challenge the masculine mythology of the romanticized old west, they blend the guitar twang of spaghetti westerns, the driving rhythms of krautrock and the confident swagger of blues.
Band Members
Betty Benedeadly – Guitar
Fern Rojas – Guitar
Lainey Smith – Bass
Xina Ocasio – Drums
Interesting Facts
Everyone in the band identifies as a lady.
The band is multi-generational, spanning an age range of 25 years.
The band is 50% Latinx and 50% Gringa.
Discography
Putamulletonit b​/​w Nowhere Wolf (2019) 7″ Single – PeacockSunrise Records
Chapter One (2018) CD & Digital – Independent Release
Music
Press Mentions
Sheverb's smokey, Mexican-inspired Southern rock sound is plucked straight from a Robert Rodriguez film"
– The Austinot

"Morricone meets Roky Erickson. Such a great genre blend."
– Andrew James, Austininte & music enthusiast

"Link Wray for stoners"
– Billie Buck, Austin musician & artist
"Lynchian noir-surf-psyche"
– Logan Thompson, Austin writer
"Sheverb recreates and feminizes the idea of manifest destiny with their whip-smart western hooks and licks."
– Jenny Parrott, Austin musician "
"Sheverb's smoldering sound matches Texas heat in a big way"
The Austinot
20 Essential Albums of 2018
Power of Prog
"So worth lending an ear to"
Permafrost
Other Projects & Releases
Fernande Rojas – Pleasure Venom
Genre
60s Psych Rock, Spaghetti Western, Surf, Desert Rock
Important Links
Instagram | Facebook | Bandcamp | YouTube | Spotify
Videos
2019 Spring Tour Highlights