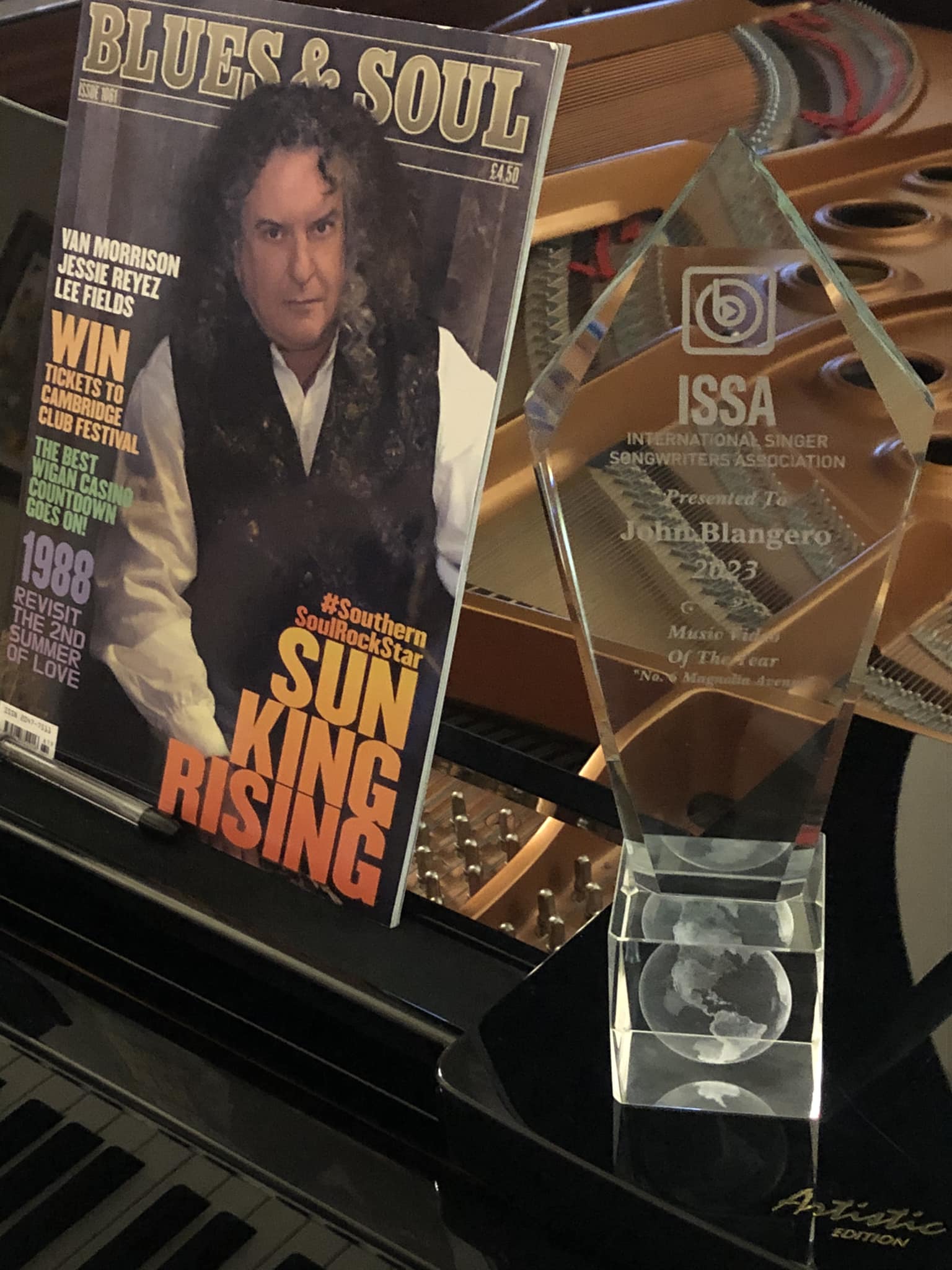 We won the Silver Award for our music video, No. 6 Magnolia Avenue, at the International Singer Songwriters Association 2023 ceremony! Thank you very much to all who voted for us and to ISSA. Special kudos to Dante Ludovici who directed the video, and Ace Acker who produced the record. And thanks to my record company, PeacockSunrise Records, and it's President, Nick Katona, for believing in me.
Oct 28, 2022, Sun King Rising releases the Short Film, No. 6 Magnolia Avenue based on the Hit Single of the same title from his latest album Signs & Wonders produced and directed by Dante Ludovici, No. 6 Magnolia Avenue is a literal film interpretation of the song's optimistic, uplifting lyric. It is the story of an unknown, down-and-out musician who attains acclaim and stardom after encountering the beautiful "Girl in China Blue" at a bar gig.
Ludovici's production ably captures all the emotion, pathos, and humor inherent in the recording. Many of the artist's New Castle, Pennsylvania friends and family form the colorful cast of characters.
Sun King Rising is the musical moniker and alter-ego of John Blangero, who lives in Port Isabel, Texas. By night, Blangero is Sun King Rising. By day, he is a world-renowned genetic research scientist and professor at the University of Texas, Rio Grande Valley.
Watch No. 6 Magnolia Here
Meghan Greenwood, a popular Pittsburgh choreographer/dancer, plays his love interest in the film. Ludovici also featured her in his first Sun King Rising film production, "Free Will in China Blue." She has retained her "girl in China Blue" identity in the second production.
In addition to the mostly local Newcastle cast, Ludovici also utilizes multiple Newcastle and nearby Poland, Ohio locations to significant effect.
Blangero wrote the song, and producer Ace Acker completed it with a who's who lineup of Pittsburgh players and singers at David Granati's Maplewood Studio in Ambridge, PA. Granati engineered Sun King Rising's first album, Delta Tales. as well.
Listen to Signs & Wonders Here
Sun King Rising Online
Website: https://www.sunkingrising.com
Bandcamp: https://sunkingrising.bandcamp.com
Facebook: https://www.facebook.com/SunKingRising
Instagram: https://www.instagram.com/sunkingrising
YouTube: https://www.youtube.com/channel/UCIjlf9aROZ-0EHHqvk9hzng
PSR Profile: https://peacocksunriserecords.com/project/sun-king-rising/
PeacockSunrise Records Online
Website: https://peacocksunriserecords.com/
Facebook: https://www.facebook.com/PeacockSunriseRecords
Instagram: https://www.instagram.com/peacocksunriserecords/
Twitter: https://twitter.com/SunKingRising1
YouTube: https://www.youtube.com/channel/UCIjlf9aROZ-0EHHqvk9hzng