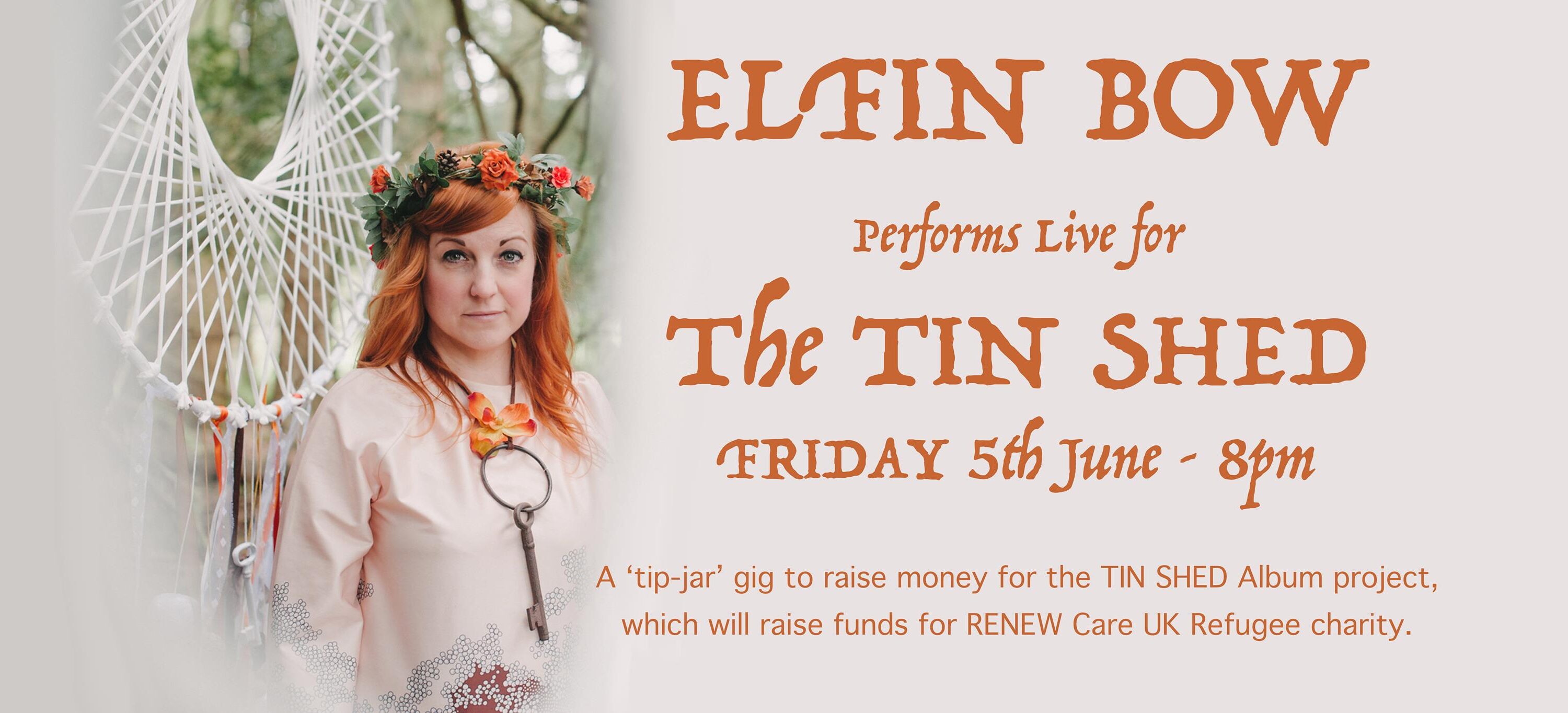 Described by Shindig Magazine as, 'lyrically astute and melodically inventive,' Elfin Bow's pastoral pysch-folk holds imagery that that blends her twin passions of music and art.
A strict 1970's church upbringing that frowned upon any kind of pop music, was the catalyst for her 'quiet rebellion,' and she saved her pocket money to buy her own radios to listen to covertly under the covers. The discovery of trailblazers like PJ Harvey, Tori Amos and Bjork flung the door wide open for her to find her own voice.
Two successful crowdfunding campaigns enabled the release of her debut album, launched with a live session on BBC Radio Wales and a single with the Fruits de Mer Record label, recorded with the Scottish Session Symphony Orchestra. After signing to Peacock Sunrise Records, and prior to starting work on her follow up album, Elfin released her EP, Rainbows & Gallows.
In stage outfits that interpret her lyrics, Elfin invites moments of musical magic in venues big and small; a tin shed, living rooms, art galleries and bookshops have been no less memorable than Theatr Clwyd, The Royal Liverpool Philharmonic, the Epstein Theatre and the Bridgewater Hall.
She has performed alongside folk legends, Bonnie Dobson, Robin Williamson and Chris Wood and had airplay on BBC 6 Music (Gideon Coe) and BBC Radio Wales (Wynne Evans, Adam Walton.)
This Friday, Elfin will perform a 'lockdown' live performance for the Tin Shed Facebook group. A 'tip-jar' gig, where you can donate what you can, she will be donating half of the proceeds to a new project to create a CD compilation of music from all musicians who have performed at the Tin Shed since it began. The profits from the sales of this CD will go towards CARE UK – RENEW, a charity that supports refugees living in the camps of Greece. 
Elfin Bow Online
Website| Facebook | Bandcamp |Twitter |  Instagram
Be in Flow facebook group 
https://www.facebook.com/groups/beinflow/
Videos:
https://www.youtube.com/watch?v=tkKuLZydUkc 
(who is Elfin Bow?)
https://www.youtube.com/watch?v=O6EVYcRxJUQ 
(Take me out in your old bread van)
https://www.youtube.com/watch?v=fKREfedWikk 
(The Wisdom)