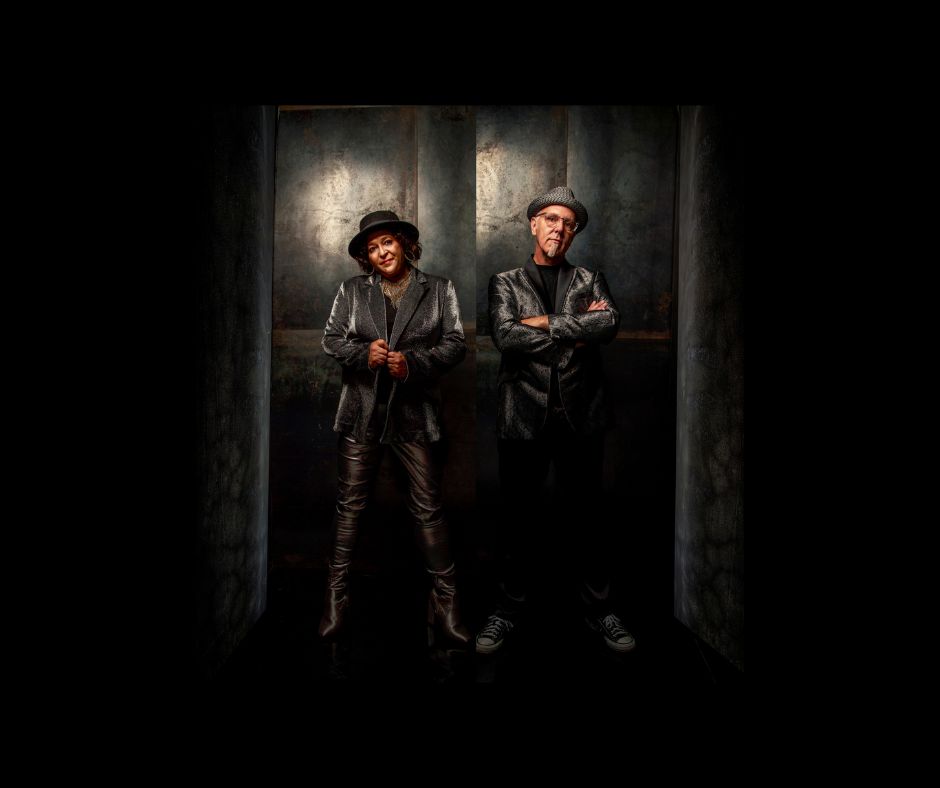 About The Band
It takes "Two to Tango" as the old phrase goes.
And BlissBliss has been in the dance together for a while now.
It was December 14th, 1969, when a vocal group from Gary, Indiana, (only a few hours from where she lived in Fort Wayne), first performed on the Ed Sullivan Show, that Reneé Garcia was hooked!
After that night, she would listen for hours to the Jackson 5 and Michael Jackson as well as the Motown artists she used to love to skate to. That music shaped her world and still influences her vocal style to this day. It was a music that wove itself together with dances and she learned many of them as a little girl; The Swim, The Mashed Potato, The Twist, The Watusi.
Later on in her solo career, she became one of the first artists to introduce dance music to the Contemporary Christian Music market with 2 successful projects, Living In The Vertical and A Different World released on Reunion Records. She is considered to be one of the pioneers of popular dance music in the CCM genre. She was asked by label president Michael Blanton, to join the label as a recording artist after having sung on 4 major tours with world-renowned artist Amy Grant, who was managed by Blanton at the time. During her time in CCM, Reneé garnered a strong response in the CCM community, and made hundreds of appearances both on stage and on television, in the U.S., Canada, Mexico, and Europe. She landed seven Top 10 songs; five of them charting in the Top 5. The song "Perfection" from A Different World reached the #2 position, with the song's video going to #1 on the video charts.
Her dance partner in life and music, began his groove many years before, learning to play drums by playing along to the radio in the basement and listening to artists as varied as Led Zeppelin, Yes, and The Ohio Players. Lang's mother loved Classical music and played the piano all of his years growing up. His stepfather loved Swing music and played saxophone around the house in Lang's formative music years. But it was a 1960s blue sparkle, jazz, Gretsch drum kit that set him on his way to play drums at every chance. That passion led to touring around the US, Canada, and Australia with a company based out of St. Petersburg, Florida right out of high school. He performed an average of 500 shows a year over a 4 year period with Showcase Inc. while being endorsed by Pearl Drums and Zildjian cymbals. That experience paved the way for a depth of skill on stage that ultimately led to a move to Nashville, TN, and a highly successful career, touring nationally and overseas and playing in the studio for many well-known artists in the burgeoning CCM scene including Rich Mullins, Michael W Smith, Margaret Becker, and others. He also took to songwriting and his first co-write landed a Grammy nomination for Best CCM Rock Song.
It was when he "asked Reneé for a dance" that the two decided to merge lives and careers and BlissBliss was born. They signed a songwriting deal with BMG Publishing and released their first project on REX Records. "Musically, we come from different backgrounds," reflects Reneé, "Lang's deepest roots were in progressive rock, and I was nurtured on Motown. Initially it seemed like an odd venture, but we began to build upon our common ground, and we're thrilled with what our joint efforts produced."
As one observer stated, "BlissBliss is an elixir of pop, groove, and jazz where elegance reigns supreme!"
BlissBliss Is.
Renee Bliss: Vocals
Lang Bliss: Drums, Programing, Guitar, and Backing Vocals
Discography
Horizons (PeacockSunrise Records) 2024 – CD, Digital, Streaming
Previous Releases
Horizons (Diff'rent Wirld Records) 2022 – Digital, Streaming
"3" (Diff'rent Wirld Records) 2018 – Digital, Streaming
Life So Far (Diff'rent Wirld Records) 2011 – CD, Digital, Streaming
Self-titled – (REX Records) 1995 – CD, Digital, Streaming

Remix Releases
Unshakable Groove! Remixes (Diff'rent Wirld Records) 2016 – Digital, Streaming
No Apology Remixes (Diff'rent Wirld Records) 2017 – Digital, Streaming
I'm Coming Through Remixes (Diff'rent Wirld Records) 2018 – Digital, Streaming
What's Going On Remixes (Diff'rent Wirld Records) 2020 – Digital, Streaming
Drive the Remixes (Diff'rent Wirld Records) 2023 – Digital, Streaming
Horizons Sessions
Lang and Renee also brought in friends Scott Bernard (Kenny Loggins, studio) and Kurt Stowe (Juke House Saints, studio) for some special guitar parts, sax player Mark Douthit (Lionel Richie, Elton John, Amy Grant, Billy Joel, Vanessa Williams) and friend and vocalist, Irene Kelly Johnson (Bryan Duncan, studio).

"The basic tracks were cut back in March 2019 at engineer and guitar player, Mark Townsend's (Reliant K, DC Talk, Jennifer Knapp) S-s-studio with Mark seated in the guitar and engineering chair. With Lang's instrument of choice being drums, he covered that role. Eric Bikales (Stevie Wonder, Cher, Patti LeBelle, Tom Waits) brought his unique flavor and years of experience to keys and Zane Bliss (BlissBliss, The Juke House Saints, studio), their son, like a seasoned pro, created melodic and driving bass for the new arrangements."
Previous Album Review Quotes
"When an artist hears their own voice and stays the course in spite of fear and lack of fame and financial payback, over the years they develop a body of work that becomes their personal narrative. BlissBliss has offered us nearly two decades of stories in song that give one a front window into their soul and heart. That is rare. That is a gift. Open it and give thanks."
David Bunker Former Head of A&R, REX Records
"BlissBliss's dedication to the legacy of sophisti-pop is sure to resonate with fans of the genre, but BlissBliss is no mere revivalist act. Lang and Renee have forged a unique and polished sound with an attention to detail and a level of musicianship often missing in modern popular music." Jake Jenkins/InSync Magazine
"BlissBliss is double the talent in one package… double groove and double heart and soul."
Mindi Abair
(two-time Grammy Award-nominated saxophonist,
vocalist, author, and National Trustee for the National Academy of Recording Arts and Sciences)
"Sometimes music becomes cinema. Some people call this synesthesia when colors are heard and sounds become light and hue. That is the soundtrack of BlissBliss. These guys are on the money when it comes to tracking their inner world but have this joie de vivre that redeems the sadness, heals the wound, and offers it all up with gratitude."
David Bunker Former Head of A&R, REX Records
"I've long been a fan of BlissBliss and their brand of smooth Sophisti Pop. "I'm Coming Through" is a perfect showcase for their sultry, jazzy sensibilities, impeccable vocals, lyrical depth, and rhythmic perfection. The interplay of the signature bass line and keyboard arpeggio propel the song along in a subtle but vital way that immediately hooks you and takes you along on their journey. Great song, great sound!"
Dez Dickerson
(former lead guitarist and vocalist for Prince and President/CEO of Pavilion Synergies)
​"One thing I love about sophisti-pop is how meticulous so many of those bands were in the engineering of their records. To me, many of those records are just sonically untouchable, even to this day. It's evident that BlissBliss is chasing that same level of fidelity and nailing it. Horizons have the forwardness of modern music, but (they've) retained the dimensionality and the space I associate with sophisti-pop albums from the '80s and early '90s."
Jake Jenkins/InSync Magazine
BlissBliss Online
Website: https://www.blissbliss.com
Facebook: https://www.facebook.com/blissblissmusic
Instagram: https://www.instagram.com/blissblissmusic
YouTube: https://www.youtube.com/blissblissmusic
Twitter/X: https://twitter.com/blissblissmusic
Shop & Stream
Amazon: https://www.amazon.com/music/player/artists/B004MUM3DQ/blissbliss
Apple Music: https://music.apple.com/us/artist/blissbliss/420746348
Bandcamp: Coming Soon!
Spotify: https://open.spotify.com/artist/1dKwLujQBczwD7LtNRWvH3?si=0IOUfwKyR8imYToBJoQFaA
Web Store: https://www.blissbliss.com/shop

Videos